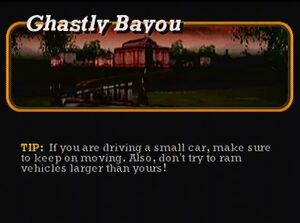 The
Ghastly Bayou
is a stage that made its debut in
Vigilante 8: 2nd Offense
. Located in Southern Louisiana, the Ghastly Bayou is a swamp with an eerie atmosphere, complete with mills, an old-fashioned mansion, and a graveyard. This arena has hazards such as alligators, deep water in the form of a river, and ghosts that attack you if you disturb their tombstone. Other structures in the stage include small buildings that when destroyed, reward the player with
Aqua Jets
, a field of tall grass that occasionally has items stored within it, and two separate ponds of swamp water, filled with alligators and alligator traps.
Located toward the west end of the stage are two manual dams that keep out additional water into the stage. Cranks that can be turned by any weapon can be spun to the point where the dam lets in all water. If both cranks are turned all the way before an unseen time limit, a bell can be heard, signaling the player's success. A flood of water will then make its way into the level, causing the player to resort to using Aqua Jets (if Aqua Jets are not acquired before the flood, the player will be forced to stay on limited dry land until the flood ends), and the flood aids the player with hard to reach items floating in mid-air such as Special Weapon Crates, Wrenches, and if in Quest Mode, certain items required to complete missions.
Certain alligator traps are placed within the two swamps within the level. If the player successfully traps an alligator (alligators will follow you in the water), they will be rewarded with Special Weapon Crates and Wrenches.
In the graveyard, certain tombstones can be destroyed to acquire Wrenches and Special Weapon Crates, but other tombstones will release ghosts that attack the player.
If you have three weapons and teleport many times between the large mansion and the crypt and vice-versa, you will receive more ammo until your three weapons reach maximum capacity. If you don't have any weapon or still have empty slots, you receive a new weapon after each teleport. It works with Specials too and even if the mansion or crypt are destroyed.