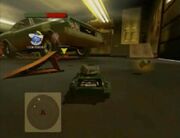 Garage is a stage that makes its debut in Vigilante 8: Arcade. It is only available through download off of Xbox LIVE through the High Octane Pack. Garage is a stage that is based on a normal garage through the perspective of insects or rodents. Structures within the stage include a car, shelves, a garage door, tools, and any other items typically found in a garage. Hazards within the stage include mousetraps, which snap down on anyone that it comes into contact with, and flammable onjects located on the shelves located throughout the level.
At the very top of the column of shelves is a vent system that is accessible through weapon-fire. Within the vents, the player can find Wrenches, Special Weapon Crates and Power-Ups.
Located near the spawning point at the eastern part of the stage is an accessible mousehole that transports the player to the top level of the column of shelves.
The car located in the middle of the stage is an exact replica of Chassey Blue's in-game vehicle.
On the walls within the stage, the player can sometimes see posters of the original Vigilante 8.
On certain merchandise on each shelf, the player can make out the word 'Isopod', which is reference to Isopod Labs, the developers of Vigilante 8: Arcade.