Dave's Cultsmen

Dave's Cultsmen as they appear in Vigilante 8: 2nd Offense

Name(s):

Dorkiel, others are unknown

Age(s):

19-33

Appearances:

Vigilante 8: 2nd Offense

Vehicle:

Xanadu RV

Special Weapon:

Super Invasion

Alignment:

Vigilante
Dave's Cultsmen is a fictional character(s) in the vehicle action series Vigilante 8.
After Dave goes on to live with aliens, he achieves the status of legend among other hippies who want to follow in his footsteps. Of all of his followers, Dorkiel and his two unnamed friends seem to be the closest to achieving their goal of contacting with aliens, and will not rest until they do so. While trying to contact Dave in his RV, Dorkiel comes up with the idea that in order to receive a signal from Dave they must retrace his steps. And so, with a goal in mind, the Henchmen take a spiritual trip around the southwest in search of a signal. Their first stop, to visit the man that guided Dave throughout the auto wars: Convoy.
Dave's Cultsmen are not playable in Quest Mode, therefore do not have an ending.
Vehicle & Statistics
Edit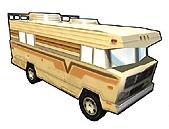 Dave's Cultsmen bop around in the Xanadu RV, a vehicle that's somewhat slow and has above average armor.
| | |
| --- | --- |
| Acceleration: | IIIII |
| Top Speed: | IIIIIIII |
| Armor: | IIIIIIIIIIIIII |
| Avoidance: | IIIIII |
Special Weapon
Edit
Dave's Cultsmen's Special Weapon is Super Invasion, three UFOs that repeatedly crash into the nearest enemy for a short amount of time.
Dave's Cultsmen's Special Weapon is identical to Dave's Special Weapon in Vigilante 8.
According to Dave's Cultsmen's bio in Vigilante 8: 2nd Offense, Dave and Dave's Cultsmen's hometown is Santa Cruz, California.
In the Dreamcast version, the Xanadu RV looks significantly more run down and damaged than in the Nintendo 64 and Playstation versions.
2nd Offense:Edit
"Lead the way, oh Dave!"
"The proof is out there!"
"(humming) Come on, show us a sign, man!"
"Invasion!"
"Far out!"
"Join us! Join us!"
"(humming) Dave will deliver you!"
"Give up your earthly possessions, now!"
"Lights! We see lights in the sky!"
"(humming) This job sucks, man!"
"We're stray, we're not worthy!"